CAMP STAFF
VALBROOK BASEBALL ACADEMY's staff consists of some of the best High School coaches from around Long Island, as well as many current and former top college players. Many of the top H.S. players in Nassau also assist at the camp.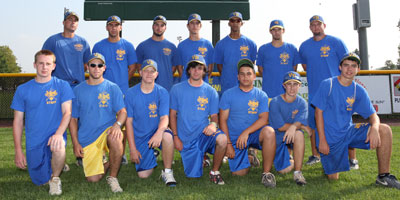 Camp Director/Vice President - Al Marrazzo
Al currently teaches middle school ELA in the Lynbrook Public School District. He has been teaching in Lynbrook for 26 years. The first fifteen years of his career were spent teaching fifth grade at West End Elementary School. He now calls Lynbrook South Middle School home. He has been the head varsity baseball coach at Lynbrook High School since 2002. He was named Nassau County A3 and A4 Coach of the Year three times in his career. He is currently the vice president of the Nassau County Baseball Coaches' Association and is the co-chairman for the Diamond Award Committee. He received his BS in elementary education from St. John's University in 1993 as well as his MA from Adelphi in 1998. His biography was published in the 2003-2004 and 2004-2005 editions of Who's Who of American Teachers. He was also elected into the National Honor Roll's Outstanding American Teachers in 2006
Camp Director/President - Tony Lombardo
Tony was the Assistant Varsity Baseball Coach at Valley Stream Central High School for 24 years. Tony helped lead Central to 14 winning seasons and 10 consecutive league championships beginning in 1991. He was awarded the Nassau High School Baseball Coaches' Association's Assistant Coach of the Year Award in 2000. Prior to starting Valbrook, Tony was the lead instructor and site director at Buddy Harrelson Baseball Academy. Tony currently oversees the daily operations, staffing, and finances for Valbrook.
Lead Instructor/Site Director - Frank Alesia
Frank is currently the Associate Head Baseball Coach at Lynbrook High School. Prior to working at Lynbrook with Al Marrazzo, Frank was the head coach at Valley Stream Central High School, coaching there for 7 years. During his seven-year tenure, Frank focused on structure, work ethic, discipline, and team building. Through coaching, Frank has helped young athletes embark on their career path at the collegiate level. He was a head coordinator at Dom Scala's One on One Baseball Camp from 2003-2012. He created and built the travel baseball organization, the Long Island Pirates, composed of players between the ages of 13 and 17. While with the Pirates, he earned three NJBL championships while composing an overall record of 256 – 27. Frank is considered one of the finest teachers of baseball on Long Island.
Training Supervisor/Instructor - Phil Spoteck
Phil teaches 7th grade Accelerated Math at Weber Middle School in Port Washington. There Phil also serves as the Assistant Varsity Baseball Coach. He has coached at the Varsity level for the last 7 years and previously coached Junior Varsity and 8th grade baseball. Phil has been a large part of the recent success of the Port Washington program. The team won Nassau Conference AA-2 and finished as the Nassau County Runner-up in 2019. For his work with the team in 2019, Phil was awarded the Varsity Assistant Coach of the Year in Nassau County.